This version includes templates. The center template is actually identical to the center of version 1 in my American Stars pattern, but the round background gives you another look. The eagles are from border fabric, not applique, and any border print can be used this way. A 15" square ruler, or larger, is recommended. The star looks great worked in 5 identical repeats.
Pattern Price: $9.00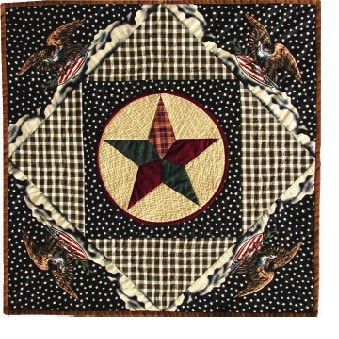 American Union Star, $9.00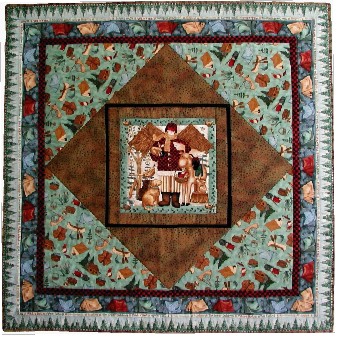 Instructions are also included for the One Block Quilt. This is a versatile quilt that is given in four sizes, 28" to 50". The center is the same dimensions, you just keep building around it. It's a great quilt for pillow panels up to 14" finished size, beautiful big prints too pretty to chop up, fat quarter bundles, showcasing applique blocks, using existing stash fabric, making a quick gift for any occasion. This size is 36" x 36", a popular Linus quilt size. It can even be made "quilt as you go" since all pieces are large.  Additional quilting is recommended, but outline stitching will be done, and only seen on the back.

Pattern Price: $9.00








One Block Quilt w/Pillow Panel

Each pattern features both quilts.

All Rights Reserved.  Copyright 2004 Joy Iervolino.

American Union Star One Block Quilt